Food is one of the things that unite us all, no matter where we come from or what we do. It is a universal language that speaks to our senses and our souls. That's why, at Altogether Care, we celebrate our diverse workforce through food.
Recently, we had the pleasure of sharing a meal with Jinson Jose, one of our mental health first aiders based in Sherbourne House, Yeovil. Jinson comes from South India and has made his home in Yeovil, where he enjoys cooking dishes that remind him of home.
Jinson's favourite dish is Fish Molly, a creamy curry that's packed with protein and bursting with flavour. It's a classic South Indian dish that's not as well-known in the UK, where North Indian cuisine is more popular.
During our meal, Jinson shared his passion for cooking and how he loves to cook with his family back in India. He's brought that tradition to Yeovil and shares his love of cooking with his colleagues at Altogether Care.
The smell of fresh ginger, garlic, peppercorns and turmeric filled the air as Jibin, our resident chef at Yeovil care home, prepared the Fish Molly in the kitchen. Colleagues from the care home couldn't resist the aroma and came to join us for a taste.
Jinson shared that many of the ingredients used are grown locally in his home town in South India and food and spices such as peppercorns are picked fresh and dried outside in the sunshine.
It was heart-warming to see how food can bring people together, even in the workplace. We captured some photos to share our experience with you.
If you'd like to try making Fish Molly at home, we've included the recipe and instructions below. It's a tasty, nutritious, and easy-to-prepare dish that's sure to become a new favourite in your household.
We believe that celebrating our diverse workforce through food is a great way to promote inclusivity and respect for different cultures. We encourage everyone to embrace the richness of our differences and come together over a shared love of food.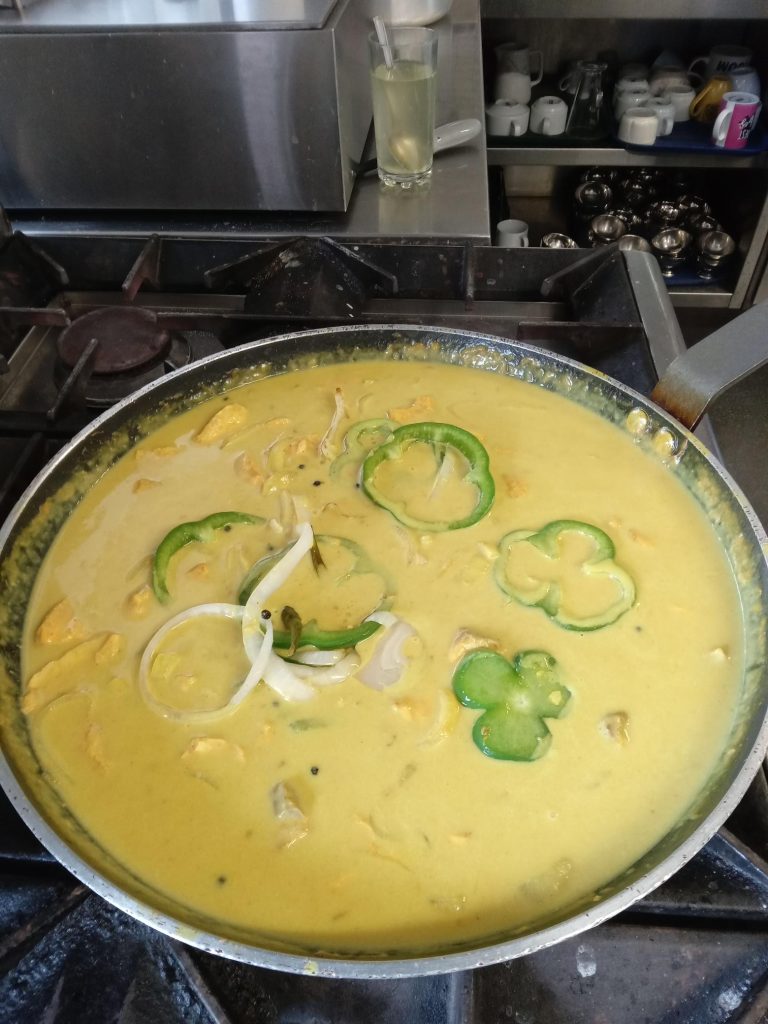 Ingredients:
500 grams fish fillets (any firm white fish like kingfish, salmon, tilapia, or cod)
1 cup thick coconut milk
1/2 cup thin coconut milk (optional)
2 medium onions, finely sliced
2 green chilies, split lengthwise
1 tablespoon ginger-garlic paste
1 teaspoon turmeric powder
1 teaspoon red chili powder (adjust to taste)
1/2 teaspoon black pepper /powder
1 teaspoon coriander powder
1/2 teaspoon fennel seeds
2-3 tablespoons oil (preferably coconut oil)
Curry leaves
Salt to taste
For tempering (optional):
2 tablespoons coconut oil
1/2 teaspoon mustard seeds
2-3 dry red chilies
Curry leaves
Instructions:
1. Clean the fish fillets and cut them into medium-sized pieces. Marinate the fish pieces with a pinch of turmeric powder and salt. Keep them aside for 10-15 minutes.
2. Heat oil in a deep pan or kadai over medium heat. Add fennel seeds and curry leaves. Sauté for a few seconds until fragrant.
3. Add the sliced onions and green chilies. Cook until the onions turn golden brown.
4. Add ginger-garlic paste and sauté for a minute until the raw smell disappears.
5. Lower the heat and add turmeric powder, red chili powder, coriander powder, and black pepper powder. Mix well and cook for a minute.
6. Pour in the thin coconut milk (optional) and bring it to a gentle boil. Add salt to taste.
7. Carefully add the marinated fish pieces to the pan. Gently stir to coat the fish with the spice mixture. Be careful not to break the fish pieces.
8. Cover the pan and simmer for about 10-15 minutes or until the fish is cooked through. Be sure not to overcook the fish.
9. Once the fish is cooked, pour in the thick coconut milk and give it a gentle stir. Cook for an additional 2-3 minutes on low heat.
10. In a separate small pan, heat coconut oil for tempering (optional). Add mustard seeds and let them splutter. Add dry red chilies and curry leaves. Fry for a few seconds until the leaves turn crispy. Pour this tempering over the fish curry.
11. Remove from heat and garnish with some fresh curry leaves.
Your Fish Molly is ready to be served! Serve it hot with steamed rice, appam (rice pancakes) or bread. Enjoy your meal!