Live-in Care offers a solution if you need 24/7 care and support with everyday life but prefer to remain in your own home.
You may need help with tasks around the home, the reassurance of regular companionship, or daily support and assistance with personal care.
Whatever your needs, you'll be able to make choices about the things you want to do with your life. Your live-in carer can help you stay in touch with your family, friends and with the wider community, and continue your interests and hobbies.
One of our supervisors or managers conducts annual visits to all of those who receive care so that we can hear about your experiences and suggestions first hand. This helps us ensure that we consistently deliver live-in care services that meet your needs.
We are fully Covid-19 compliant and are continually updating our process and procedures in line with Government guidance to ensure the safety of our residents, staff and guests. As this is constantly evolving, please contact us if you wish to find out the latest information.
You are at the heart of everything we do. Our core principles influence the way we run our service and the way in which we deliver your care, even if you are not in one of our homes, you are still part of our family. Our values underpin everything that we do, and shapes how we provide care to you each and every day.
Personal care and support promotes your active participation that achieves positive outcomes.
Delivering Care Excellence
Your feedback helps us to constantly review our services to ensure that we continue to deliver care excellence.
Your overall personal and healthcare needs and preferences are included within our package of care. We cooperate with other services and professionals to give you the highest possible level of independence.
Your needs and care preferences are thoroughly assessed from the beginning. Our commitment to providing care designed around both your existing and potential future needs ultimately ensures that the care we provide has the flexibility to meet your ever-changing circumstances.
We're passionate about providing the very best care possible and are committed to continuous improvement in the level of the care we offer.
Through a continuing programme of staff training and development, we help our people be the best they can be- both personally and professionally- so they can deliver the best possible care to you.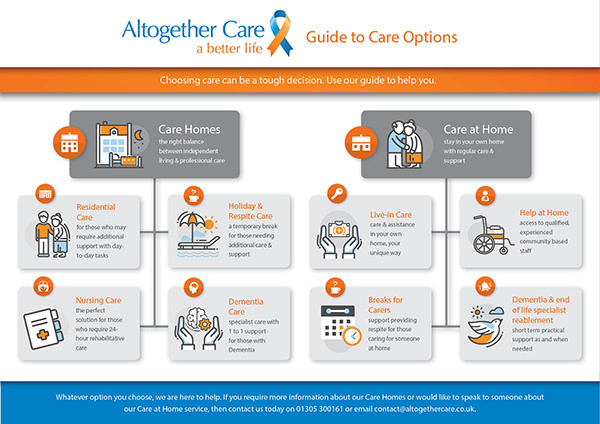 Stay informed and keep up to date with all the changes in care.
Our resource centre is designed for people wanting to dig deeper in to Care, what's going on, exploring funding opportunities, trying to make descions on the most suitable care.
And get your Free guide to care options.