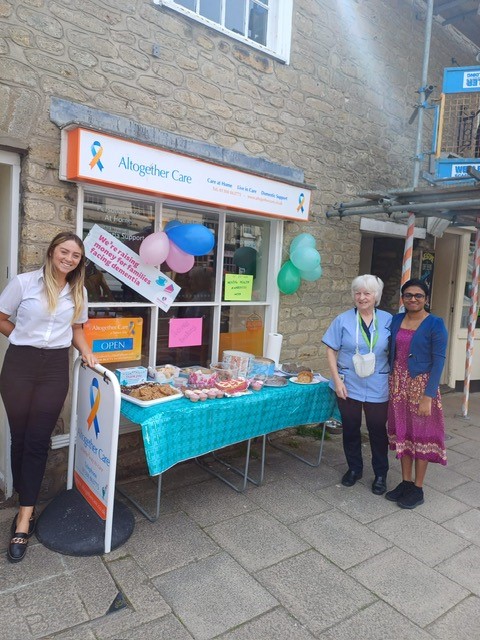 Altogether Care Bridport branch is making waves with their proactive team and trained Mental Health First Aider (MHFA). Their recent initiative aimed to recognise and support Mental Health and Dementia national Awareness Week, and the results were nothing short of inspiring.
To demonstrate their unwavering support and raise funds for these important causes, the team organised an enjoyable bake sale. Perfectly coinciding with the national bake day, this event was a testament to their dedication and compassion. Leading the charge was Sheelagh, whose role as a Mental Health First Aider and social butterfly made her the ideal candidate to spearhead this event. Registered manager Kellie Gumbrill eagerly enlisted Sheelagh's expertise, and she embraced the responsibility with enthusiasm.
To ensure the bake sale's success, the team sought guidance from the Dementia Awareness website, utilising their fundraising pack to decorate the exterior of their Bridport office. The decision to hold the event on a Wednesday, coinciding with Bridport's bustling market day, ensured maximum participation. Bridport's market is renowned for its lively atmosphere, attracting a multitude of local market traders and a supportive community. Carers from Altogether Care enthusiastically contributed by making, buying, and donating baked goods. Some even involved their families in the baking process, creating a truly enjoyable experience. The resulting cakes were not only visually appealing but also incredibly delicious.
Kellie has strong connections with her team and nurtures an inclusive culture, recognised the isolation that can be faced by international carers. Angelo is a carer who has come over from Sri Lanka and who has recently moved his wife Sharmila to Bridport, and Sheelagh went above and beyond to show kindness and compassion to her. Understanding her limited social interactions, Sheelagh extended a warm invitation to Sharmila, providing her with an opportunity to engage with others and lend a helping hand at the bake sale.
The pictures captured during the event tell the tale of an overwhelming success. Sheelagh, as an MHFA, interacted with numerous local individuals who were captivated by their stall and the treats on offer. This fostered open communication, with many feeling comfortable enough to share personal stories about their experiences with dementia and mental health. Such genuine interactions perfectly align with Altogether Care's main objective of encouraging open conversations, showing kindness and care, and raising much-needed funds.
In the end, the team accomplished a remarkable £110.38 for these worthy causes. Equally important, they significantly raised Altogether Care's profile and showcased its family-based values within the community. Congratulations to everyone involved in this remarkable achievement!
By championing Mental Health and Dementia national Awareness Week, Altogether Care Bridport branch has left an indelible mark on the community, offering hope, support, and a delicious way to make a difference. If you're ever in need of someone to talk to, please don't hesitate to drop by for a cup of coffee and a chat – we're always here and happy to help.