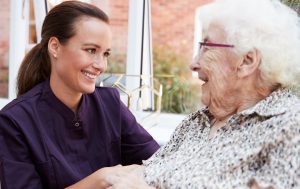 For many people, live-in care offers the best of everything. There are so many benefits of people remaining in their own home, where they are surrounded by a familiar environment, their own possessions and staying in a community where they feel they belong. Choosing Live-in care ensures  there's somebody on hand for companionship and to help out with those tasks they find challenging.
When people opt for live-in care they often tell us they wish they'd done it sooner. What held them back was a concern about loss of their privacy or independence. They also assumed that their normal routine of life would be upended and their social life would suffer.
Nothing could be further from the truth.
As with all care services offered by Altogether Care – you're in charge. The service adapts to you,  and not the other way round.
First, there will be a conversation between you and your live-in carer about how you want the service to work. You'll have a personal care plan designed to meet your choices, needs, and wishes.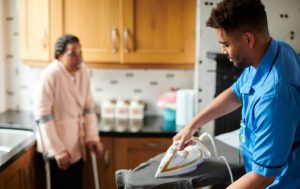 Your preferences for activities, eating times, meals and hobbies, care routines and your medication needs all go into the plan. There shouldn't be any disruption to your established routines and way of life. It's just that somebody is on hand to make it all easier for you.
As your needs change your care plan will be updated. Your live-in carer will offer help when you need it but won't interfere with any aspect of your life that you don't want them to.
Our Good CQC rating offers reassurance of the quality of care provided. Here's what a couple of our live-in care clients had to say:
"Clearly experienced and well trained in all aspects of care. She immediately and competently took on the new tasks as my mother's health deteriorated, this included: using the hoist, using tools to help move my mother in bed, administering drugs etc."
"We just wanted to say in passing that Mariana is the best carer our loved one has had from Altogether Care- so caring and sensitive to her changing needs. The duty doctor, who visited  last week, said likewise. We hope that Mariana will be able to stay for her lifetime, subject to holidays."
Levels of Care
You can choose from three basic levels of care and each will be fine-tuned to suit your needs:
Level 1 is mainly for companionship and general support to live independently.
Level 2 offers greater assistance with daily living, such as bathing, dressing, or help with mild physical disability or dementia.
Level 3 offers support for people suffering from a significant physical disability, dementia or other medical conditions that need sensitive and more intensive life care.
There's also the option of night cover; sleeping or waking night  care.
If you've considered live-in care, but not yet done anything about it, give Altogether Care a call, visit our website, or email contact@altogethercare.co.uk. We'll be happy to answer any questions.